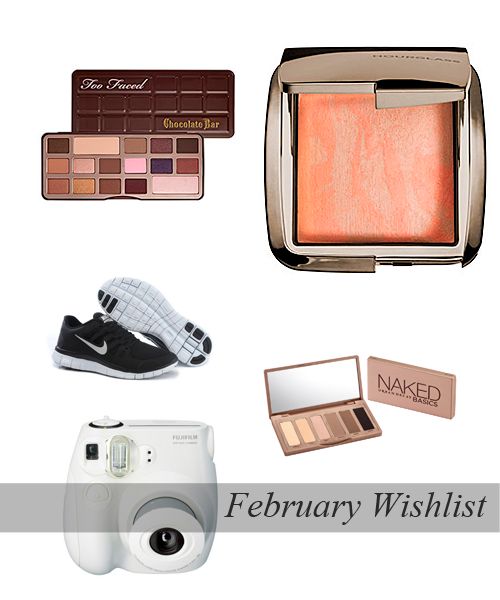 Can you believe that January is over and now we're in February? That was probably the quickest month ever. Here are a few things that I'm eyeing at the moment.
Let's get the beauty products out of the way. First off is the
Too Face Chocolate Bar
. Um, hello? An eyeshadow palette that smells like chocolate? Yes please! Especially when Valentine's Day is coming up - this would be the perfect gift! Too bad Australia doesn't stock this yet. I recently purchased the Hourglass Ambient Lighting Powder
(will do a review on this)
but they just came out with the
Hourglass Ambient Lighting Blushes
! I've seen so many people talk about this recently and have seen swatches on
Temptalia
. I definitely want this since I'm such a sucker for blushes. The last beauty related item is the
Urban Decay Naked Basics palette
. This would be perfect palette to take when I'm away from home. I love neutral shades especially when I've been liking the matte eyeshadow look.
The last two random items are the
Nike Free Runs 5.0
. I love the look of these and when I tried it on, they were so comfortable. I've been getting back into working out after a year without it. Oh how I want a
Fujifilm polaroid camera
! They are so cute and their colour range are so adorable. The yellow one looks super cute. One of my friend took a photo of my boyfriend and I on her polaroid for New Years, so now I have a photo of us in my wallet!
Let me know what's on your wish list! Thanks for reading guys ♥

Bloglovin | Facebook | Twitter