Hi guys! Long time no blog! Well, first off, Happy belated New Year to you all! I hope you all had an amazing one - I know I did! I was in Lakes Entrance after Boxing Day for a whole week, and came back to Melbourne on the 2nd. Anyway, I've been meaning to blog but I accidently left my DSLR in my friend's car and didn't get it back until recently. I have missed blogging so much, so here we are with my "Best In Beauty" products of 2013.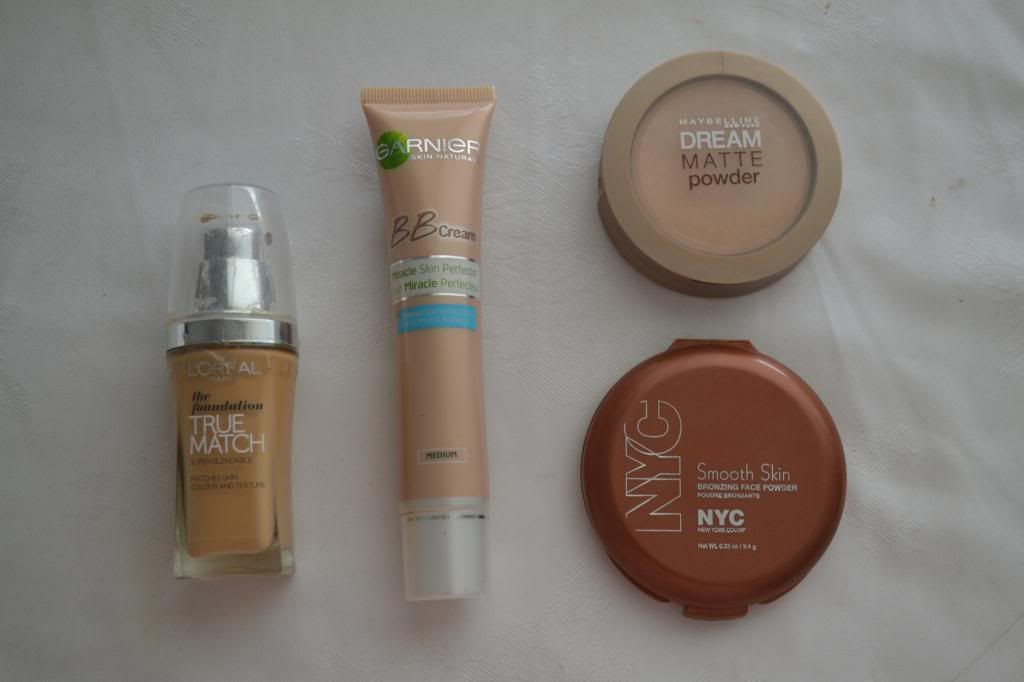 Foundation:
I went with the L'Oreal True Match foundation as this was the only foundation that I kept using every single day for months! I love how it's easy to blend and has good coverage.
BB Cream:
Before I discovered the L'Oreal True Match, I wore this Garnier Skin Miracle BB Cream for Oily/Combination skin for almost a year. This has the most amazing coverage for a BB cream in my opinion.
Powder:
I'm going to go with Maybelline Dream Matte Powder because it mattifies my face and doesn't make my face cakey.
Bronzer:
The NYC Smooth Skin bronzer in Sunny is a cult favourite for many people, including mine. This bronzer is also very affordable and matte! No shimmers.
Bronzer:
I love the Benefit Hoola Bronzer to contour as this bronzer is not as orange as the NYC one. It's more brown and very pretty.
Highlighter:
I love The Balm Mary-Lou Manizer to highlight my face - it gives me the perfect glow!
Blushes:
So I couldn't choose one blush since I have so many. Milani Baked Blush in Luminoso, NYX Powder Blush in Pinched & Mocha are my favourite blushers this year. I always gravitate to these three the most. Can you tell my NYX Pinched & Milani is well loved?
Mascara:
I've reviewed the Maybelline Mega Plush Volum Express mascara before and I said I didn't like it, but I gave it another chance and I love it! I think it's the formula, it makes my lashes look long with lots of volume. I also got the waterproof version if I want my curls to hold.
Concealer:
I recently purchased this concealer and I can already tell, it's going to be one of my HG! I have the Maybelline Dark Circle concealer and the Revlon Photoready one, but they crease under my eyes!! That's a no-go for me. This MAC Pro Longwear concealer does not crease under my eyes and gives me amazing coverage!
Eyeliners:
For pencil eyeliners, I really like the
Rimmel Scandal'Eyes
one! They're very pigmented and they are waterproof. I have a few shades in this range but I use Black & Brown the most. For liquid eyeliner, I love the
Maybelline Master Precise
. A friend recommended this to me and I fell in love! This is my second one and I already have a back up. Only down side is that they dry out very fast.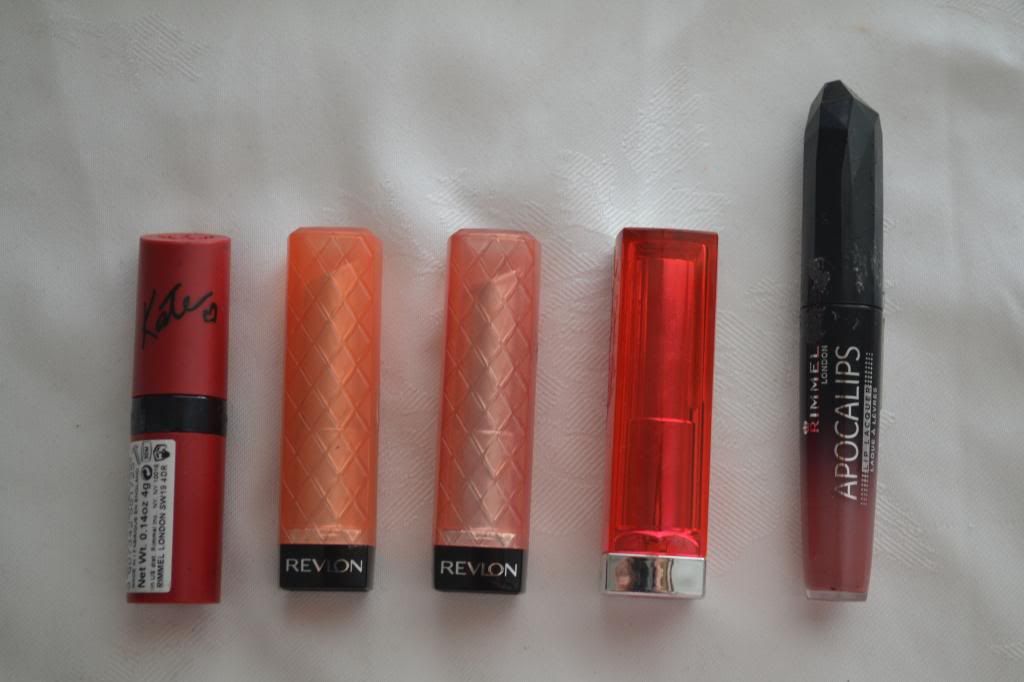 Lipsticks:
The
Rimmel London Kate Moss Matte lipsticks in 103
is my go-to lipstick if I can't decide what I want to wear. Also the
Revlon Lip Butters in Juicy Papaya and Peach Parfait
gives me a MLBB when I want something natural. If I want a bold lip then the
Maybelline Color Sensational Vivids lipstick in 902 Fuschia Flash
is what I would wear! I absolutely love this colour. If you follow me on Instagram of Twitter, you would see me wear this all the time! Lastly, the
Rimmel London Apocalips
is amazing lip lacquer! I have 3 shades and I love them all.
Left to right: Rimmel London Kate Moss in 103, Revlon Lip Butter in Juicy Papaya, Revlon Lip Butter in Peach Parfait, Maybelline Vivids in Fuschia Flash, Rimmel London Apocalips in Solstice
That is all for this post! I hope you enjoyed reading it and let me know if you have tried or like any of these products! Also if you have done a "Best In Beauty" post, leave a link down below. I would love to see what you're favourite for the year are! :)

Bloglovin | Facebook | Twitter